Spending weeks and weeks on your holiday decor is all fine and well, but sometimes you just need a quick and easy Christmas craft! (On Monday I talked about some other simple Christmas decor ideas.) These Scandinavian-inspired popsicle stick snowflakes use just a few basic materials and can be made in 10 minutes. They are kid and budget-friendly, and a set of them would make a great DIY gift!
For November's Create & Share Challenge (hosted by Pocketful of Posies and Casa Watkins Living), we were asked to DIY something for the holidays that could be made in about 10 minutes. Not necessarily an easy task, but I love a good challenge!
Materials
Fancy craft popsicle sticks (I guess you could use regular ones too and jazz them up with more paint)
Buttons (2 per snowflake)
Acrylic paint (I chose white and red)
Fine paintbrush
Glue gun & glue
Cardstock
Fishing line or ribbon (to hang the snowflakes)

Directions
This is a REALLY simple craft to make. It is definitely a great option if you are making holiday decorations with children, or if you are in need of some unbreakable ornaments. (I have a baby so this is on my mind!)
Cut a small circle of cardstock, just smaller than the buttons you plan to use. Glue your first sticks to the cardstock.
2.  Build up your snowflake design on one side, adding sticks of different lengths to create a pattern you like.
3.  Once you are pleased with one side's design, add the button to the centre. Repeat the process on the other side of your snowflake. Try to alternate the placement of the popsicle sticks to create some layers and visual interest.
4.  Add colour to your snowflakes with the acrylic paint. No need to keep to a strict pattern!
See what I mean? Such a simple, quick little Christmas DIY but it will add so much charm to a tree. You'll have to wait and see where I plan to use mine! (Hint: not the tree!)
Why the Scandinavian inspiration, you ask? My husband is a collector of languages, and has been learning Swedish for the past two years. He's unbelievably fluent already, and his interest in Nordic culture has sparked something of an obsession in our home.
I love making my own holiday decorations! They mean so much more than a bunch of store-bought stuff. Some of the ornaments on my tree were made by me maaannnnyyy moons ago. 😉
Handmade ornaments and decorations are also such a beautiful, personal gift. It's so nice to receive something with which you feel a real connection.
Are you planning to make any homemade decorations or ornaments this year? Let me know in the comments!
Now I hope you'll take some time and visit the other Create & Share Challenge participants. This is a great opportunity to find some easy-to-make holiday decor. Remember, everything in this month's challenge can be made in 10 minutes!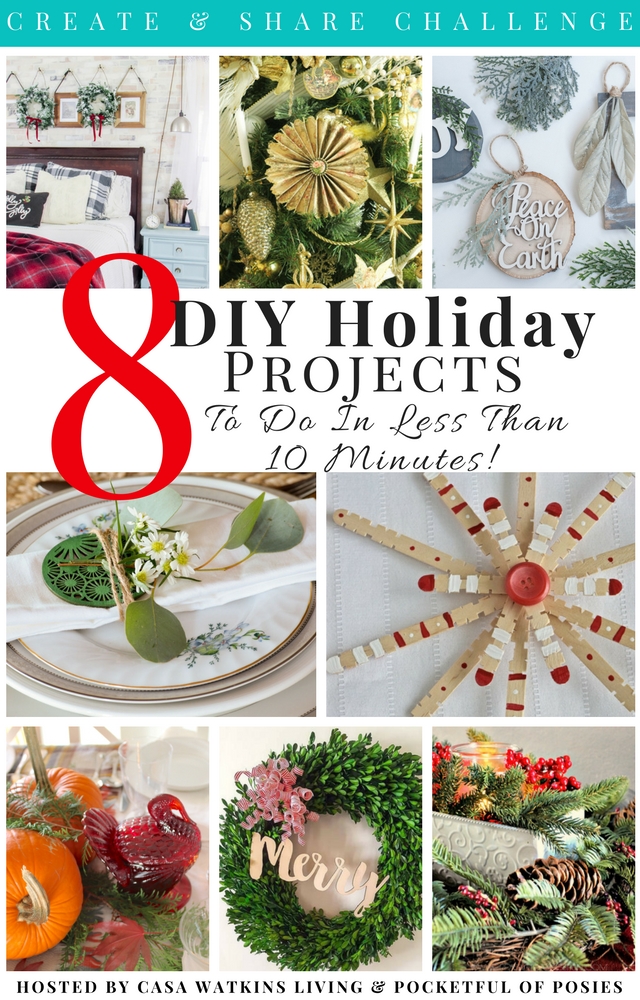 Casa Watkins Living DIY Wood Ornament Napkin Ring
Pocketful of Posies Turn Old Garland Into A New Wreath In A Flash
DIY Beautify 10 Minute Christmas Decorating Ideas
Flourish & Knot 10-Minute Scandinavian Snowflakes
Creatively Homespun 5 minute DIY Holiday Candle Arrangement
Lehman Lane Quick Colorful Thanksgiving Table Setting
Kim Six Fix Victorian Paper Fan Medallion Ornaments
Vintage Romance Style 3 DIY Rustic Farmhouse Ornaments
↓Don't forget to pin this post for later! ↓
You can subscribe to receive Flourish & Knot posts directly in your inbox! Head over to the sidebar to subscribe→ → → →
Until next week!